5 Ideas To Create An Eco-Friendly Garden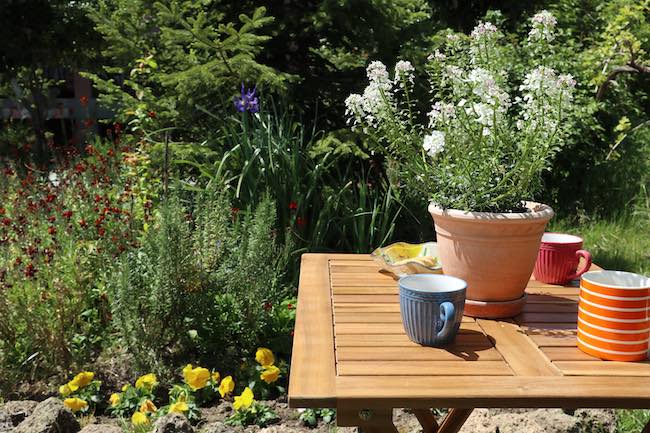 We live in a modern world where we stay busy enough not to take care of our home particles. Considering the process of technology and the market's competitiveness, we don't want to miss any opportunity in our workplace.
Working hard and making money is our main concern these days. We can sacrifice anything for that, and we are already doing that. Following this concern, we do not care enough about our home in prominent ways.
Well, having a backyard is a matter of luck for many. In this modern world, with the increasing population, it is hard to get your own house with space in your backyard. We just want to get a house anyhow so that we can live properly.
The property's price is sky-high, and engaging an extra place for your backyard is nothing but luxury.
There is another concern!
We all have the idea of gardening, but very few are aware of the impacts of humans on the environment. The current world problem is mostly related to the environment as it is in great danger.
Well, going eco-friendly is the only viable solution that you can take, whether you are gardening or travelling.
Why Go For A Natural Garden?
Gardening is one of the best approaches that you can take at home. It can heal your mental wounds and help you spend quality time on weekends.
When we work hard every day, we almost get robots with our lifestyle and the same kind of routine. This needs proper healing, and you will see people going on new adventures by taking breaks at least twice a year.
However, healing your mind and freshening up is not enough for just two times a year; you need to find something permanent which you can enjoy after the hard work of your office daily.
Well, the backyard of your house can help you be close to nature and also reduce the dissatisfaction of not going on an adventure.
Nature has the best healing power, which we often omit in our busy modern lives. Well, this should not be your case if you want to be a proper gardener. Your first instance of going eco-friendly with your garden is not going against the nature of your garden.
If you think that dealing with plants automatically helps you become eco-friendly, then you have the wrong conception. In fact, if you do not go natural with your working process for a garden, you will need to take some unusual steps against the eco-friendly nature of a garden.
This is where you need to understand the nature of your garden. Do not depend on your own approach but focus more on the qualities of your garden. For instance, if it represents a damp shadow place, then you need to go for woodland plants.
On the other hand, if the garden represents sunny slopes, then you might rethink your gardening and consider plants like bay, juniper, sage, and rosemary. These are the Mediterranean herbs that grow naturally in your sunny garden.
Ideas To Create An Eco-Friendly Garden
Creating an eco-friendly garden is best possible with the natural aspects. However, while going with the nature of your garden, try to cover the aspects below.
Follow these steps to be efficient in eco-friendly gardening. While dealing with your backyard, we have the best opportunity to become a friend of our environment.
Let's make this happen!
Choose Only Solar-Powered Garden Ornaments
Technology has helped us a lot to explore the world of opportunities. Every time when humans are struggling, technology has helped them overcome obstacles.
Considering the process of technology for gardening might seem like an artificial approach that is direct from nature, but it does not work in such a concept. In fact, you can play with technology that will help you to be efficient with eco-friendly materials for gardening.
Considering the process of technology, you can grab solar-powered garden ornaments. Solar-powered panels are one of the best discoveries of technology. We are now able to save our natural resources and also use electricity in natural ways.
Solar energy is an unending resolution to our power sources. A garden without light might seem uneasy and not satisfying for our souls. However, going for strong and lasting solar powered garden ornaments may help you become eco-friendly and modern simultaneously.
Improve The Soil Quality
Well-rotted and composed soil is exposed to good growth of plants. Gardeners call it a 'good heart .' This way, your garden soil can be intact with rich microorganisms and resist illnesses and pests.
Compost may also help the sandy soil to absorb water better. It works like a sponge, and you need to understand the particular nature of your garden soil and proceed accordingly.
Do Not Use Chemicals
Using harmful fertilisers may not be a wise solution for your garden soil. Pests will be there, but you need to be patient and keep working in natural ways. People do not have patience, and they try to dismiss pests or any other soil dangers immediately.
Well, many chemicals are available in the market which may dismiss any danger to your garden soil, but in turn, it is going to diminish the power of soil. Gradually the planets will grow less, and you will not be able to call the garden eco-friendly anymore.
Recycle And Reuse Products
Reusing gardening materials and products is an efficient way to maintain sustainability. Reusing materials can help you with waste management.
For instance, you do not need to buy products like pots anymore, but you can use home products. As an idea, simply try to use the mugs which you can get at home while buying water from the market.
Use those products to create a pot for a new tree and be efficient with eco-friendly approaches.
Think About Companion Planting
Gardeners who want eco-friendly benefits may go with companion strategies. It is proved that companion gardening helps plants go faster and in easier ways.
Some plants are meant to help each other, and here are some examples for you.
Tomatoes and Chives
Carrot and spring onion
Garlic and Rose
Cucumber, dill and radish