How to protect your garden furniture from weathering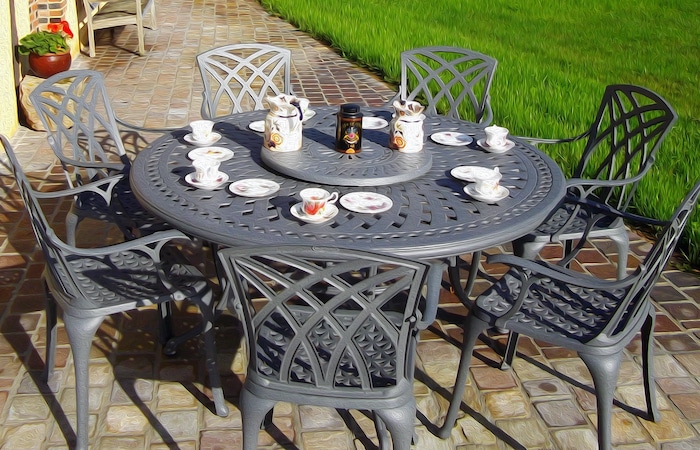 Here in the UK if there is one thing that we know it is that the weather is incredibly unpredictable. It is perfectly possible to find yourself struck by a torrential hailstorm in the summer or unseasonably warm weather in the winter. This means that if you have garden furniture you will certainly want to ensure that it is protected from rain, wind, cold and just about anything else that could possibly be thrown at it. If your garden furniture is stuck outside in all weathers, whether it is plastic, wood or metal, this weathering can cause damage. Fortunately there are plenty of things that you can put in place that will protect your garden furniture against weathering.
Cold
It is an assumption that rain is the cause of most of the issues you may have with garden furniture from rotting wood to rusting metal. However, hardwood garden furniture is most susceptible to the cold. These woods are often sourced from warmer climates which make them a great material for outdoor furniture, and their denser structure makes them ideal when faced with the damp and rain. However, when it gets colder this residual water in your furniture freezes, and when it thaws, it can cause the wood to swell – this is where the damage is caused. You can protect against this by shielding your wooden furniture. Consider putting it inside, if possible, when this is not possible use a good quality cover.
Rain
We get plenty of rain in the UK, and often heavy sudden downfalls that can really drench everything. This dampness on the surface isn't so much of a problem to wooden furniture, rather the fact that it can seep into the joints and cracks and cause damage from the inside. Using a good varnish or wood treatment that will protect the surface of your wood will help to repel at least some of the water and prolong the life of the furniture.
Metal garden furniture on the other hand is a different matter. Over time, exposure to rain, and to some extent cold, can cause rust. If you haven't purchased rust proof garden furniture, then this is something that you will need to keep an eye out for. As with wooden furniture, if you can store it indoors, or at least cover it during the colder months then this will really help. If you can't, then make sure you check it over thoroughly once a year and treat any rust that you find before it gets worse.
You should also aim to treat your wooden furniture on an annual basis as well. This should be done with a product specifically designed for garden furniture, as this will help to nourish the wood.
Sun
Unfortunately, sun can damage your furniture as well and will be particularly drying when it comes to wooden furniture. This is the weather type that can cause the most damage to your plastic garden furniture, continual sun exposure can cause your plastic furniture to become brittle which can make it prone to cracking.
Storing your furniture in the shade or using covers when not in use will help to avoid this.
Wind
Here in the UK, we are no strangers to heavy winds, and these can certainly cause damage to garden furniture. Plastic furniture is lightweight, and this means it can easily be picked up by the wind and thrown around damaging it. Wooden furniture may seem heavy but is lighter than many people realise, and strong winds can cause it to become damaged. Fortunately, metal furniture is heavier, but it is still worth ensuring it is secured firmly in order to reduce the risk of weather-related damage.
While it might seem like just another job to do, protecting your furniture will help it look better for longer, allowing you to enjoy the way it looks in your garden for years to come.