5 Ways to Create a More Relaxing Backyard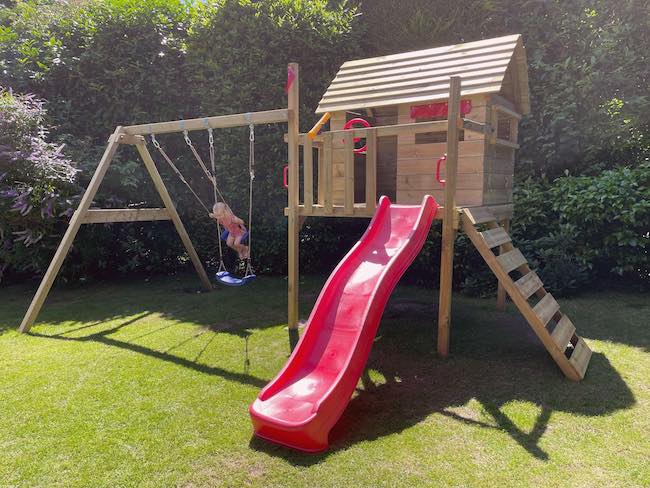 Backyards have always been a source of relaxation and enjoyment; it's where people refuge when they want to relax, unwind, or have fun. If your outdoor space is where you want to get away, yet there is too much clutter or too much furniture chaotically placed around, you should follow these steps to create a more relaxing backyard.
According to studies, simply looking at green lawns or plants helps us relax and benefits our mental health. So, why not turn your garden into a calm sanctuary for you and your family? Plus, kids will enjoy a clean space and play while you watch them relax. It's also a great way to teach your kids to take care of plants and vegetables and enjoy spending time in nature.
Clear your garden from clutter
Reconsider your yard, and clear out the clutter. Redecorate the space and add a swing set for your kids from, for example, Wickey. Or select the right play equipment according to your children's age. Have you noticed how your garden becomes cluttered, especially after the cold months when all of us spend time inside? But when spring and summer come, we find ourselves full of energy and ready to redecorate the garden and optimise it for children and other summerish activities. Of course, it's ideal to stay on top of things throughout the year, but it can be time-consuming and overwhelming. Sort out your plants, tools, and other accessories that keep you from maintaining the space clean and tidy. Store anything that can be stored, and get rid of broken furniture and other things that might seem like they don't belong in the back of your garden. Outdoor space has the potential to provide shade, sun, fresh air, and perfect views. Enjoy all of it by considering these ways to transform your space into a haven.
Add comfortable seating
The best part of spring is that sitting outside and soaking in the sun can fill you up with energy and a good mood. If you like to sit outside and get some fresh air, sip your coffee in the morning in a comfortable chair, or just admire the view and contemplate, there are plenty of options for comfortable seating for your backyard. It depends on what style you want to adopt for your garden. Some techniques are traditional; others invoke the feeling of a bar or a public park. Regardless of the type chosen, you can add chairs and a sofa to fit your lifestyle. It will encourage you and your family to spend more time outdoors.
Consider a kid-friendly backyard.
Transforming your outdoor space into a child-friendly space for active playing doesn't have to be a big deal. It doesn't have to take you too much time, money, or energy. As parents, you know how vital play is for your kids, right? Often, playing is considered a relief from learning; but it's quite the opposite. For kids, play is learning. As you consider your backyard's design, think about what you have and what you don't. You might want to add a swing and slide set, art activities, water play, toys, and other items. Swings, for example, are fun and comforting, excellent for developing balance, and the perfect way to get active.
Many studies have shown that kids and adults enjoy the time spent outdoors. Going outside helps people think clearer, relieve stress, and heal from whatever they struggle with. Creating a kid-friendly yard is the perfect way to encourage your children to spend more time outdoors, in the sun and fresh air. A fun yard with entertaining options will keep them out for many hours. You may include an age-appropriate playground – your kids and their friends will have a great time together sliding, climbing, and swinging in the back of the yard. It's recommended to select a play structure that can allow your kids to get more years of excitement.
Consider the view
If you're the lucky one who got the chance to buy a house with a view, don't hesitate to create a space to enjoy this scenery. Having gorgeous views can entirely change the feeling of a space. Find a landscape designer that can help you bring outdoor chairs, tables, a fountain, an outdoor chimney, or a tree. These elements bring much peace and relaxation into a garden. As much as you love to relax in the living room, a backyard is a true paradise, especially if designed with all the right items. Your backyard can be just as inviting as your living room, but it has something more; nature and fresh air. So, it benefits everyone. You can also connect your yard to the dining room. Extending a dining room outside with large windows can add light, an incredible view, and modern touch to any home.
Decorate with outdoor lighting
Afternoons in the garden, drinking your coffee on the back patio, and barbecues on the weekend. Is your backyard summer-ready? If not, it's a great reason to start designing your backyard with these ideas. Why not make your garden a more welcoming place? As long as it doesn't rain, you can enjoy cool summer evenings and sunny days in the back of your yard.
Update your yard with bright-coloured flowers. Display birdhouses, and choose big green plants to complete the design. Install a fire pit, and establish an outdoor movie party while cozying up in comfortable chairs. If you want to make your outdoor space genuinely livable, you can use an outdoor rug to bring more definition to the area. A couple of pillows and throws, and you'll feel like you're spending time in your living room.
A backyard is a special place for spending time with your family and friends. If you think about how to relax in the back of your garden on different occasions, use these steps to transform your outdoors into a paradise.