Renovate your home this spring!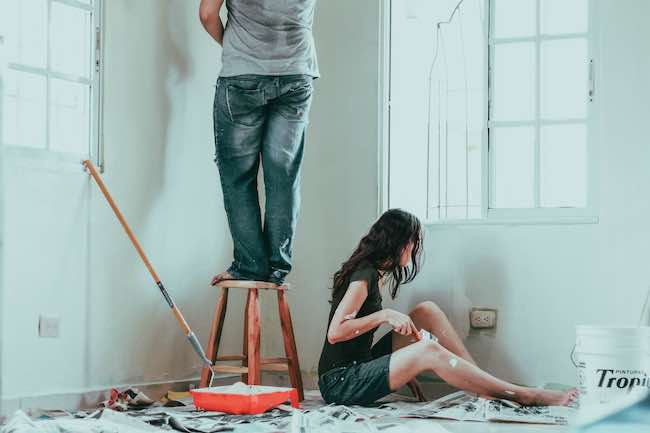 It's finally spring and the perfect time to start renovating your home. Whether you're looking for a complete remodel or just want to spruce up your current living situation, we've got plenty of ideas to get you started. 
From revamping the garden with some new soft furnishings and paint right through to replacing radiators within a room – there's something for everyone in our guide on how best to make your house into an inviting and cozy family home. So don't wait any longer – let us be your renovation buddies this spring!
Replace Your Radiators
Replacing or adding energy-efficient radiators can reduce your heating bills significantly, as well as provide contemporary style and improved functionality. Radiators come in an array of sizes and designs, so you can find one that's perfect for your space. The new black designer radiators, for example, can be a real feature of a room rather than something that you want to hide away.
If you have an older home, installing new radiators may even add value to it. Moving away from costly old technology towards more efficient models is the way to go if you're looking for both aesthetic appeal and cost-effectiveness.
It is important to ensure that your boiler is appropriately sized for your home before adding more radiators. A boiler that is too small may struggle to provide sufficient heat to the existing radiators, let alone any additional ones.
To determine if your boiler is the appropriate size, you will need to calculate the heat requirement of your home. This calculation takes into account factors such as the size of your home, the number of rooms, and the insulation level. Once you have calculated the heat requirement, you can compare it to the output capacity of your boiler. If your boiler's output capacity is significantly lower than your home's heat requirement, you may need to consider upgrading to a larger boiler before adding more radiators.
It is also important to note that adding more radiators to an undersized boiler can cause a range of problems, including decreased efficiency, increased energy bills, and potential damage to the boiler. So, consult with a qualified heating engineer before making any changes.
Revamp Your Garden
Spring is the perfect time to revamp your garden and turn it into a beautiful oasis! Adding pops of color by planting flowers and shrubs can provide an instant facelift and add variety to your landscape. If you feel like getting creative, why not install a small pond or birdbath as a stunning focal point? You could also build a seating area with benches or an outdoor loveseat for when you want to sit down and admire your work. With a few added touches here and there, you can easily transform your garden into an inviting space away from the hustle and bustle of everyday life.
When choosing plants for your garden, there are several key considerations to keep in mind:
Make sure the plants you choose are suitable for the climate in your area. Some plants may require more water or sunlight than your area can provide, so it's important to choose plants that can thrive in your local climate.
Different plants require different types of soil. Before choosing plants for your garden, test the soil in your yard to determine its pH and nutrient content. This will help you choose plants that will thrive in your soil type.
The amount of sunlight your garden receives will determine which plants can grow there. Some plants require full sun, while others can tolerate shade or partial shade.
Some plants require more water than others, so it's important to choose plants that can thrive with the amount of water you can provide.
Consider how much time and effort you are willing to put into maintaining your garden. Some plants require more attention and care than others, so choose plants that fit your level of commitment.
Consider the purpose of your garden. Are you looking to grow vegetables or flowers? Do you want to attract wildlife or create a peaceful retreat? Choosing plants that fit the purpose of your garden will help you create a space that meets your needs and desires.
Consider the mature size of the plants you choose. Make sure they won't outgrow the space you have available or overshadow other plants in your garden.
Finally, consider the visual appeal of the plants you choose. Choose plants that complement each other in terms of color, texture, and height to create a visually appealing garden.
Paint the Exterior of Your Home
Updating the exterior of your house with a new paint job can be a great way to revamp your home and make it look good as new. It might seem intimidating, but a few important steps can help ensure success.
Start by purchasing quality paint and supplies that meet the needs of your exterior surface, such as weather-resistant primer, acrylic latex paint, or even a stain.
Make sure to clean off dirt and grime before you start painting so your home looks pristine!
To get those hard-to-reach places and add longer-lasting protection from the elements, consider using an electric sprayer for maximum coverage.
If you're looking for more creative ways to spruce up your living space, consider painting window trim, shutters, railings, and other accents in bright colors for contrast. With just a few simple steps, give your house a vibrant new look that'll last for years!
Update Your Rooms With Colorful Cushions, Curtains, And Rugs
Brighten up and give your living room a modern touch with soft furnishings! You can easily transform the look and feel of your home by switching dull, boring pillows and shaggy rugs for fun, vibrant colors.
Choosing the right color palette for soft furnishings involves several steps. Here are some tips to help you select the perfect colors for your space:
Consider the existing colors in your room: Look at the colors of your walls, floors, and other decorative elements in the room. Choose soft furnishings that complement or contrast with these colors.
Decide on a mood: Think about the mood or atmosphere you want to create in the room. Do you want it to feel warm and cozy or cool and calming? Choose colors that help you achieve that mood.
Choose a base color: Select a base color for your soft furnishings, such as beige, gray, or white. This will serve as the foundation for your color palette.
Add accent colors: Choose one or two accent colors to complement your base color. These can be brighter or bolder colors that add interest and depth to your soft furnishings.
Use color swatches: Get color swatches or samples of your chosen colors to see how they look in your space. Place them next to your existing furniture and decor to make sure they work well together.
Consider the season: Think about the time of year and the natural colors associated with that season. For example, warm, earthy colors are often associated with fall, while cool blues and greens are reminiscent of spring and summer.
Don't be afraid to mix patterns: Mixing patterns can add visual interest to your soft furnishings. Just make sure the patterns share at least one common color to tie them together.
Balance bold colors with neutrals: If you choose to use bold colors, balance them with neutrals to avoid overwhelming the space.
Overall, the key is to choose colors that make you feel happy and comfortable in your space. Take your time and experiment with different color combinations until you find the perfect palette for your soft furnishings.
It's amazing what a few small changes can do to upgrade the look and feel of your home. Whether you decide to add soft furnishings, paint the exterior, decorate the inside, upgrade radiators, or revamp your garden, it'll be sure to make your home a more inviting space. And last but certainly not least, don't forget all about security! Ensure that all windows, doors, and locks are up to date and secure so you and your family can enjoy living in a pleasant and worry-free environment.