Original notes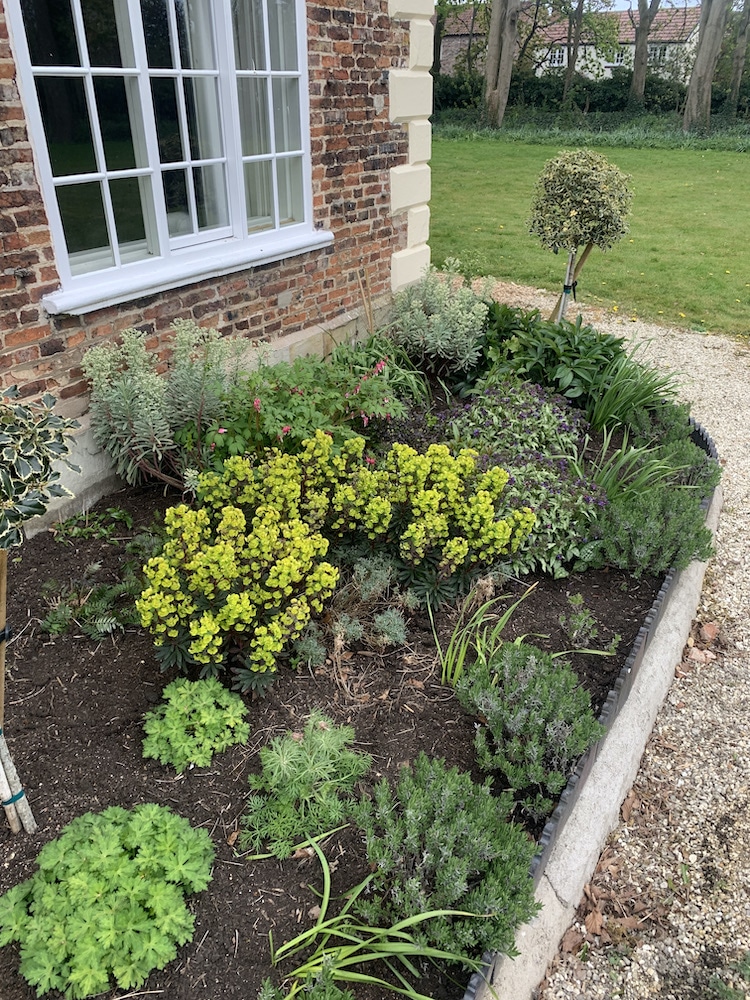 Boundary Hedge (Main Road, Hall Spout and Beck Side)

Hedge improvement works – remove sycamore and other self-seeded unwanted trees/plants and add mixed hedge plants
How do we deal with the fence falling and ivy growing over it on Beck Side – do we have to take it down completely or can we repair what we have?
First thing to do is to spray the ivy with Roundup weedkiller to remove the ivy then we could look at the fence it should be repairable
What hedge plants do you recommend for the boundary?
Crataegus commonly called hawthorn
Hornbeam (Carpinus betulus)
Holly Ilex
Planted in the autumn winter as bare-root whips
Potential to lay the hedge sidewards – how would this work?
We can look at layering the hedge, we would have to cut out some of the older stems and use the new stems to layer
When is the best time of year to work on this? Winter 2022 after cutting out older stems this winter
Entrance

Renovate stone walling entrance – possibly extend to each side
House Name signage and post box
Electric Gates
Yes we would need to find a similar stone and could include a postbox and sign, the sign could be in the wall as part of the wall. We can have a look at the stone on my next visit. With gates for now adding some 4 core armored cable to the gate would be useful
Front Drive

Estate fencing on either side – currently only erected on one side
Gravel drive – Hoggin to be done once building works are complete
Turning circle with central focal point
Shrub screening from driveway at entry point on both sides – currently only planted one side
Remove dead/unwanted tree/shrubs/plants
Renovate rose beds by adding further plants and border
Border along single story outbuilding once building works complete to compliment flower bed in front of house
Climber on arched brickwork in front bed
Suggestions for tree/plants in central focal point – edged by stone or hedging?
Liquidambar
catalpa bignonioides aurea
Tulip tree Liriodendron
magnolia grandiflora
I attached some pictures of our trees which are around £80 to £100
Suggested plants for rose bed improvement/border?
I would underplant with salvia in groups
Salvia New Caradonna
Salvia micro. Trebah Lilac White
Salvia Icing Sugar
Salvia Royal Bumble
Salvia Embers Wish
Planting scheme for right hand side of drive when entering
As its in shade it will be the same plants as the shade area – See list below
• Local company has already sprayed with a weed killer and feed
• Spread lime
Create path along the moat
Plant woodland plants throughout – eg ferns
Plant along border with grass: trees/shrubs for privacy eg rhododendrons, camellias, azaleas
Create compost area
Which woodland plants and bulbs?
Suggested plants
Should we clear area ie ivy, nettles etc?
Yes if you clear the area by leveling the existing weeds etc and covering with Ground sheeting
Side of house

Create formal Georgian/Medieval Garden Beds
Separate garden bed from entertainment area with a diagonal hedge – possibly elm
Allow garden to be seen from side window of house and also from the kitchen by an arch cut through the hedge
Design and plant out beds using hedge borders and possibly the old font as a central point – design to reflect the age of the house
Climber to go on side wall of house
Path along the house the allow access to the side window/door and rear of property – Yorkshire Stone
Entertainment area

Pave – Yorkshire Stone, including along side of house
Brick gas BBQ with covered areas, fire pit
Potential for Georgian greenhouse
Create productive garden area
Include Mediterranean plant theme – climbing fruit trees

Back Paddock leading to village hall

Hedge all 4 sides
Structural planting eg Parrotia Persica, Amelanchier, Liquidambar, Alnus
Large shed for mowers and equipment
Potting Shed
Log Store (or in woodland garden area)

Side garden where clothes line/ trampoline etc currently are:

Grass to remain
After the brick archway, continue drive stone and sets around to gate or cobbled drive
Garage turning area
Retaining wall up to field at the back
New bushy trees or hedge at top level
Non formal bed planted between grass and hedge – succulents?
Create arch in box hedging to see through to beech tree and woodland garden

Work Area

Concrete ground area beyond gate around outbuildings

Woodland Garden Under Beech Tree

Suggested plants for garden
Ajuga
Alchemilla mollis,
Arundinaria (Bamboo),
Acuba,
Berginia,
Brunnera
Epimedium,
Hedrera Colchica,
Lamium,
Pachysandra,
Pulmonaria,
Lonicera Pileata,
Skimmia Japonica,
Vinca,
Hydrangea lacecap if the shade is not to heavy
Viburnum Davidii.
epimedium
aquilegia
Anemone x hybrida 'Honorine Jobert'
Digitalis purpurea
Acanthus mollis
Geranium phaeum 'Samobor'
Euphorbia amygdaloides var. robbiae
Tiarella 'Spring Symphony
Dryopteris wallichiana
Polypodium vulgare
Cyclamen coum

Field with moat

Leave sections to grow with a path mowed through
High level fence along neighbours back gardens up to corner needs looking at
Continue hedge along all neighbours fencing
Ornamental tree planting
Create pond area where it naturally floods
Plant plants that like damp conditions eg Rheum, Hosta's, Primulas, Gunneras
Wildflower meadow

Orchard

Design layout of orchard area
Come up with list of trees wanted ie Apples, Pears, Plums, Mulberry trees, walnut trees
and medlar trees