Brown And Dead Patches In My Conifer Hedge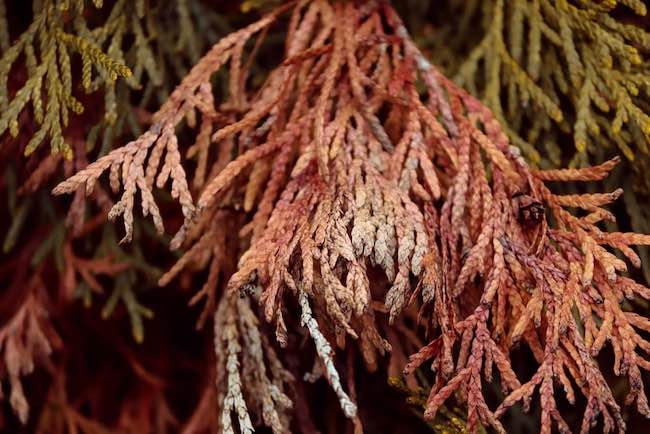 I have brown dead areas in my conifers which seem to be spreading
When brown patches appear in your conifers inexplicably, consider the origins of these conifers in damp rainy, mild woodlands on the western edge of North America. Many brown patches result from adverse growing conditions such as drought, frost or cold, and drying winds inhibiting regeneration from the trimmed foliage. As most patches arise in late summer, and hedges growing on light soil are especially vulnerable, drought and dry atmosphere are particularly likely to be involved.
Overly harsh clipping requires older wood to regenerate; older wood regenerates more slowly and with less vigour than young material, so gardeners should avoid cutting during hot, dry weather. Cutting, two or three times, in April, June and early August are usually relatively safe. Removal of competing vegetation for about 30cm (1ft) on each side of the hedge, feeding the hedge with general fertiliser (70g per sq m/2oz per sq yd) in late winter and mulching the base of hedges with a 7.5cm (3in) layer of well-rotted organic matter should also help.
When a complete tree in a hedge dies it suggests something is amiss with the roots. If adjacent trees succumb, root diseases have to be considered, and the roots and base of the tree examined for signs of Phytophthora and honey fungus. In this case, you can do little, only remove the infected plants and burn them in the hope of stopping the disease. If scattered trees in the hedge die, consider if these losses correspond to areas particularly prone to drought or winter waterlogging. These factors should be amended before replanting the hedge.
For more information on brown patches in conifers click here.