Fatsia Japonica Wilting Leaves.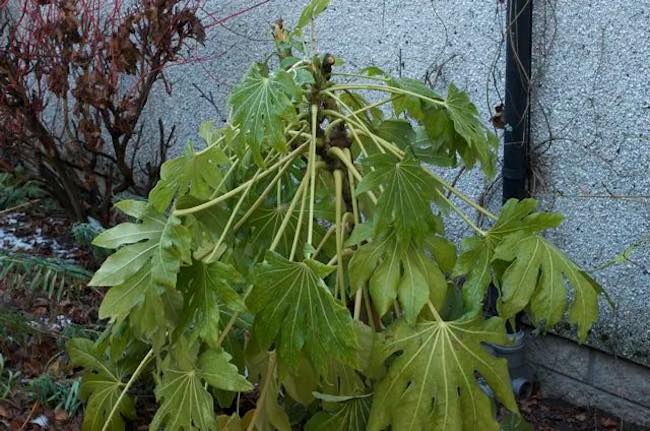 Question
Why does my Fatsia Japonica wilting leaves in cold weather. The brighter young leaves are wilting and sometimes dying .Have you any ideas on what is wrong? Does it need frost protection?.
Answer
Fatsia Japonica is generally a hardy plant that can tolerate cold weather, but if the temperature drops too low, it can cause wilting and damage to the leaves. Cold weather can cause the soil to become too cold and wet, leading to root damage, which can in turn cause wilting of the leaves.
In addition to temperature, other factors that could be causing your Fatsia Japonica's wilting leaves include:
Lack of water: Even though it's cold, your plant may still need regular watering to keep the soil moist.
Overwatering: On the other hand, overwatering can lead to waterlogged soil, which can cause root damage and wilting.
Lack of sunlight: Fatsia Japonica thrives in bright, indirect sunlight. If it's not getting enough light, it can cause leaves to wilt and die.
Pests or diseases: Check the plant for signs of pests or diseases, such as spider mites, which can cause leaf damage.
To determine if your Fatsia Japonica needs frost protection, you should check the minimum temperature it can tolerate, which is typically around 14°F (-10°C). If the temperature in your area drops below this threshold, you should consider providing frost protection, such as covering the plant with frost cloth or bringing it indoors.
Overall, ensure that your plant is getting adequate water, light, and nutrients, and keep an eye out for pests or diseases. If you're still experiencing issues, it's best to consult with a local plant expert or horticulturist for further guidance.
For More information Fatsia Japonica Wilting Leaves Click Here