How To Treat Algae On Patios And Walls.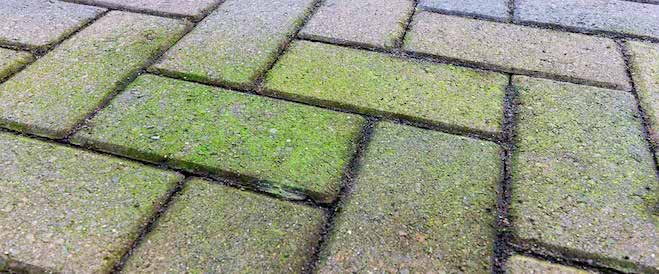 When patios and walls become green in the winter months is normally a build-up of green algae on your patios and stone work etc
The GardenAdvice team normally treat these areas with Jeyes fluid two caps full to a gallon followed by a treatment of a soap product from Doff called patio and decking cleaner. Applied in the early autumn or winter this keeps the areas free from the algae and also stops the areas such as stone patios becoming slippy.
For Areas that are heavily covered in algae (i.e green stuff ) flowers of sulphur are mixed with water and applied with a watering can.
With all these treatments its best to treat a small area first to test to make sure no surface damage or discolouration occurs
Other ways you can go about solving a slippery patio or path:
Add non-slip surface treatment or coating: There are several products available that you can use to add a non-slip surface to your patio or path. These are typically applied in a thin layer and can be effective at increasing the traction of the surface.

Use non-slip outdoor mats: Placing non-slip outdoor mats on top of the surface can provide an additional layer of grip and help prevent slipping.

Use gravel or other rough materials: If you have a gravel path or patio, you can add additional gravel or other rough materials to help increase traction.

Install handrails or other support: If the surface is slippery due to a slope, you may want to consider installing handrails or other support to help people maintain their balance.

Keep the surface clean and dry: Make sure to regularly sweep or hose down the surface to keep it clean and dry. This can help reduce the likelihood of slipping.
It's important to note that different surfaces will require different approaches, so it may be necessary to try a few different solutions to find one that works for you