Mottled And Discoloured Leaves On Amelanchier Lamarckii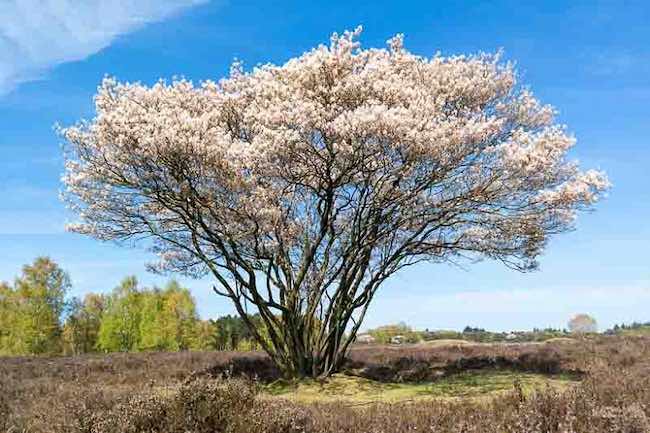 Amelanchier lamarckii, also known as Lamarck's serviceberry or Juneberry, is a deciduous tree or large shrub that is native to North America but is widely cultivated in other parts of the world, including Europe and Asia. It is a member of the Rosaceae family and is closely related to apples, pears, and other fruit trees.
Amelanchier lamarckii can grow up to 10 meters (33 feet) tall and has a spread of up to 6 meters (20 feet). Its bark is smooth and grayish-brown in color, and its leaves are oval-shaped and green, turning shades of orange, red, and yellow in the fall. The tree produces small, white or pinkish, five-petaled flowers in the spring, which are followed by edible, purplish-black berries that resemble blueberries.
The tree prefers full sun to partial shade and is tolerant of a range of soil types, including sandy, loamy, and clay soils. It is relatively easy to grow and is often used in gardens and landscaping, both for its ornamental qualities and for its fruit.
Amelanchier lamarckii is also known for its ecological importance. It provides food and habitat for a wide range of wildlife, including birds, bees, and other pollinators. Its root system helps to stabilize soil and prevent erosion, and it is often used in riparian restoration projects.
Amelanchier lamarckii is susceptible to some diseases:
HAWTHORN RUST(Gymnosporangium clavariiforme) will produce galls on the leaves,stems and fruit.
LEAF BLIGHT (Fabraea maculata) has small purplish spots on the leaves, which get bigger and turn brown, and have a small black spot in the middle.If the infection is bad enough it can cause leaf drop.
Both these diseases can be treated with an approved fungicide.
BLACK MILDEW or Witches broom (Apiosporina collinsii) is a fungus that causes a multi-sprouting of twiggy branches at the growing point.You may also see a black fungal growth on the underside of the leaves.This is not usually serious for the tree and the 'sprouts' can be pruned away.
Other forms of white mildew can occur, which probably do not need treating.
FIREBLIGHT (Erwinia amylovora) is a serious quarantine disease.The more obvious symptoms are blossom infection, which causes wilting and death;young shoots withering and drooping;leaves turning brown and looking as if they have been burnt; cankering which can be seen in cracks in the bark, which if you remove, will show a typical reddish brown staining.
There are no effective chemical controls.Diseased branches can be cut out,but this can spread the infection.If you think your tree is infected,you should inform the Department for Environment, Food and Rural Affairs (DEFRA).