Plants For Colour and scent During Winter.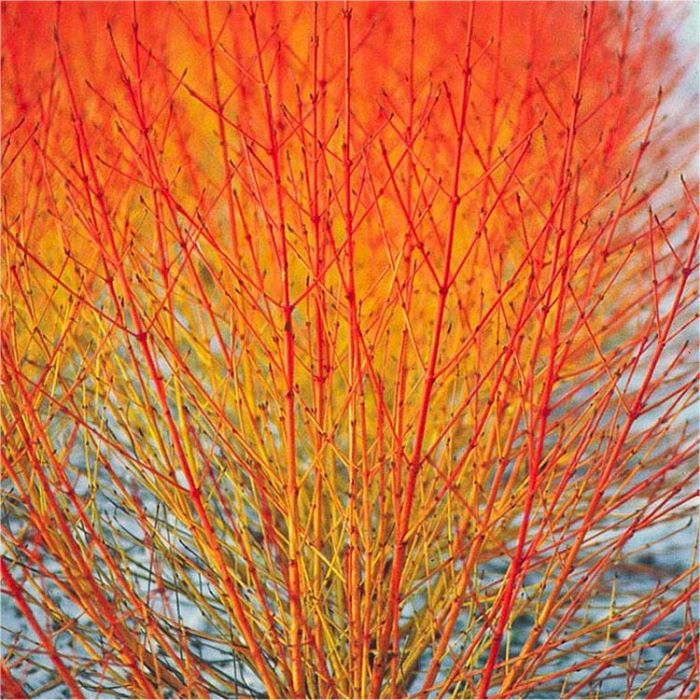 Cornus sanguinea Midwinter Fire
Winter can be a demanding season for plants, challenging gardeners to maintain the vibrant colours and blooms reminiscent of spring and summer. However, there exists a selection of reliable plants that bring forth winter's hues and life to the garden. Here are insights into some varieties perfect for the winter landscape.
Sarcococca confusa – Sweet Box: With its glossy, dark-green foliage, Sweet Box quietly charms during winter. Small, fragrant, creamy-white flowers emerge, emitting a sweet fragrance that wafts through the chilly air. This evergreen shrub is a reliable source of winter interest, especially in shaded spots.
Skimmia rubella Known for its striking red flower buds, Skimmia rubella stands out in winter gardens. This compact evergreen shrub showcases clusters of fragrant white flowers that attract attention against its deep green foliage, offering a splash of color during colder months.
Daphne odora 'Aureomarginata' The Daphne odora 'Aureomarginata' is a true winter gem. Its glossy, deep green leaves are edged with a golden-yellow hue, providing year-round interest. Fragrant, pinkish-white blooms adorn this shrub in late winter, filling the air with their delightful scent.
Cornus sanguinea Midwinter Fire (Winter Beauty) – Dogwood: Dogwoods are winter beauties, and the Cornus sanguinea 'Midwinter Fire' is no exception. Its vibrant stems transition from yellow to fiery orange, adding a burst of color to the winter landscape. This deciduous shrub showcases its brilliance against a snowy backdrop.
Erysimum 'Winter Orchid' A member of the wallflower family, Erysimum 'Winter Orchid,' displays an array of mauve flowers during winter. These hardy plants thrive in cooler temperatures and continue to bloom, adding a touch of elegance to winter gardens.
Prunus Autumnalis Rosea – A small winter flowering cherry tree.Flowers with small,highly scented flowers well before the buds break.An ideal tree for the small garden.
Helleborus Niger – The Christmas rose, seems unremarkable even boring during the Summer months.However,as Christmas arrives the display of waxy flowers and is nothing short of spectacular.When planting incorporate some peat into the soil.Grows best in semi shade in a sheltered spot near to your house.
Hamamelis Mollis – The Chinese Witch Hazels are reliable and colourful winter flowering shrubs,very robust and hardy,thriving in sun or shade but preferring some shelter from strong cold winds during the flowering season. The blooms,spidery and arising directly from the shoots and branches, are sweetly fragrant and conspicuous.The basic species is a good choice for larger gardens,while varieties often have more colourful flowers.Varieties are usually grafted on H.Virginiana and should be planted with the graft union above soil level.
Jasminum Nudiflorum – A popular and reliable shrub,introduced from China in 1844, and widely grown as a climber,with the long flexible stems trained on or over horizontal wires and trellis.It is equally attractive if allowed to scramble freely over a low wall or down a bank,and can also be trained on a pole or pillar as a weeping shrub.The stems are bright green and give an evergreen impression,even in winter when the tiny bright yellow blooms appear,weatherproof in all but the coldest snaps.Regular pruning keeps bushes under control and prevents bare dead patches from appearing.
Each of these plants brings its unique flair to the winter garden. While some bloom with vibrant colours, others release sweet fragrances, ensuring that even in the coldest months, the garden remains lively and engaging. By incorporating these winter-friendly varieties, gardeners can sustain a colourful and vibrant landscape throughout the year.
Intrested in learning more about Gardening and how to become a better Gardener? Here at GardenAdvice we offer a wide range of Gardening Courses all designed to improve and increase one's gardening skills.For more details: Click Here