Pruning Over Grown Forsythia Plants.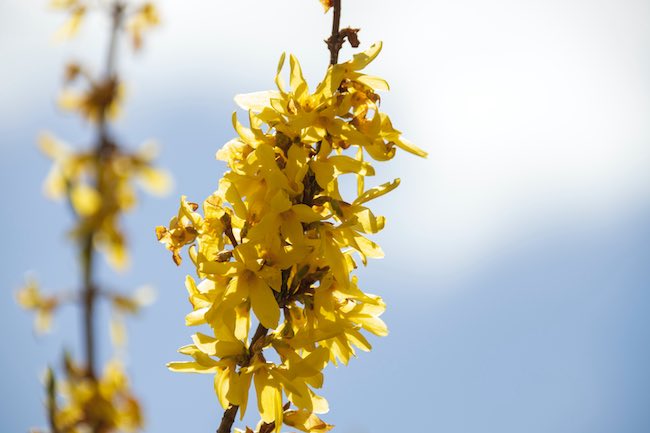 Forsythia is a popular deciduous shrub that produces masses of yellow flowers in early spring. Overgrown forsythia plants can become unmanageable, making pruning essential to keep them healthy and attractive. Here are the steps to prune an overgrown forsythia plant:
Timing: Forsythia blooms on old wood, so the best time to prune is immediately after flowering, usually in late spring or early summer. This allows the shrub time to produce new growth that will have time to mature before winter.
Remove dead or damaged wood: Begin by removing any dead, diseased, or damaged wood. Cut back to healthy wood or remove the entire branch if necessary.
Thin out the centre: Use pruning shears or loppers to remove branches from the centre of the shrub to increase airflow and sunlight penetration. Focus on removing the oldest, thickest branches and those that are growing towards the centre of the plant. This will help to reduce disease and promote healthy growth.
Reduce height: If the forsythia is too tall, you can reduce its height by cutting back the tallest branches to the desired height. Make the cuts just above a bud or a healthy side branch.
Shape the plant: Forsythias can be trained into various shapes, such as a rounded bush or a hedge. To shape the plant, use pruning shears to trim the tips of the branches to the desired shape. Always make the cuts just above a bud or healthy side branch.
Clean up: Once you've finished pruning, clean up all debris and dispose of it properly.
Remember, pruning is an essential part of maintaining healthy and attractive forsythia shrubs. Proper pruning techniques will help to promote new growth and ensure a beautiful display of flowers year after year.