How to care for Christmas cactus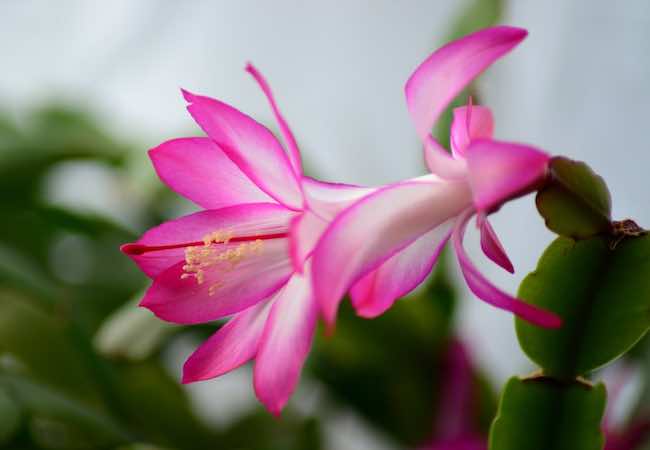 Christmas cactus, also known as Schlumbergera, is a tropical plant that is native to the rainforests of Brazil. These plants are known for their beautiful, showy blooms that come in a variety of colors, including pink, red, purple, and white.
Here are a few tips for caring for your Christmas cactus:
Light: Christmas cactus prefer bright, indirect light. They can tolerate some direct sunlight, but too much can cause the leaves to turn yellow.
Water: Keep the soil evenly moist, but not waterlogged. Allow the top inch of soil to dry out before watering again.
Temperature: Christmas cactus prefer a cool environment, ideally between 60 and 70 degrees Fahrenheit.
Humidity: Christmas cactus prefer higher humidity, so if the air in your home is dry, you may want to consider placing a humidifier near the plant or placing a tray of water near it.
Soil: Christmas cactus prefer a well-draining, slightly acidic potting mix. A mixture of equal parts peat moss, coarse sand, and potting soil is a good choice.
Fertilizer: Feed your Christmas cactus with a balanced, water-soluble fertilizer every 2-3 weeks during the growing season, from spring to early fall.
Pruning: Pinch back the tips of your Christmas cactus in the summer to encourage bushier growth and more blooms in the winter.
Repotting: Repot your Christmas cactus every 2-3 years or when it becomes root bound. Ideally using a soil based compost such as John Innes number 2 compost
Christmas Cactus are known to bloom around Christmas time and it's a good idea to have a specific care schedule around that time. The plant's blooming process is triggered by the amount of light, darkness, and temperature change that the plant gets, so make sure to keep it in a cool spot, away from artificial light at night, and that the days are shorter in length. Usually, no watering is needed during the blooming period as the plant is in a dormant state.
It's also worth mentioning that Christmas Cactus are epiphytic and when planted in the wild they do not sit in soil but in between rocks, tree trunks and branches. They tend to be low maintenance, but can be tricky to get to bloom. With the right care and attention, however, you can enjoy beautiful blooms from your Christmas cactus year after year.