Removing A Buddleia From A Wall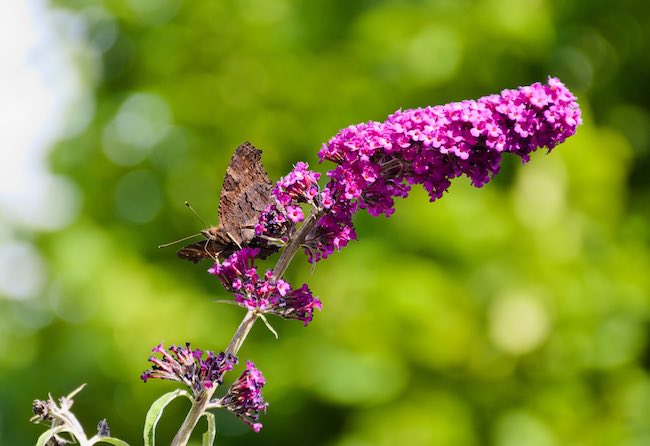 How do buddlias damage walls
Buddleias (also known as butterfly bush) can cause damage to walls by growing through cracks, causing structural damage and weakening the wall. The roots can also grow into the wall, causing cracks and weakening the foundations. The foliage can also block light, thus causing damp and mould.
We get lots of questions about removing Buddleia plants growing out of your house and garden walls. They are one of these special plants that can grow just about anywhere there is space, in walls mainly created with lime mortar or in railway sidings in central London.
Removing a Buddleia from a wall can be a bit challenging, but it can be done successfully with the following steps:
Cut back the Buddleia: Start by cutting back as much of the plant as possible. Use a pruning saw or shears to remove all branches and stems as close to the wall as possible. If the plant is particularly large, you may need to use a ladder or pole pruner to reach all the branches.
Dig out the roots: Once you have cut back the plant, it is time to dig out the roots. Using a shovel or digging fork, dig around the base of the plant, being careful not to damage the wall or any nearby plants or structures. Work your way around the plant, digging deeper and deeper until you can see the main root system.
Loosen the root ball: Once you have exposed the root system, use your shovel or digging fork to loosen the soil around the roots. Be careful not to damage the roots themselves. As you work, use your other hand to gently pull on the plant to help loosen it from the wall.
Remove the root ball: Once the roots are loose, carefully lift the plant out of the ground. Depending on the size of the plant, you may need to use a garden fork or similar tool to help lift it out. Be sure to get as much of the root system as possible.
Dispose of the plant: Once you have removed the plant, dispose of it properly. You can add the plant to your compost pile if you have one, or you can take it to your local green waste disposal site.
Repair the wall: Depending on the size of the Buddleia, you may have caused some damage to the wall during the removal process. If this is the case, you will need to repair any holes or damage that was caused. You can use a masonry repair product to fill any holes or cracks, and then paint or stain the wall to match the surrounding area.
Overall, removing a Buddleia from a wall requires some patience and care, but with the right tools and approach, you can do it successfully.