Winter Damaged Ceanothus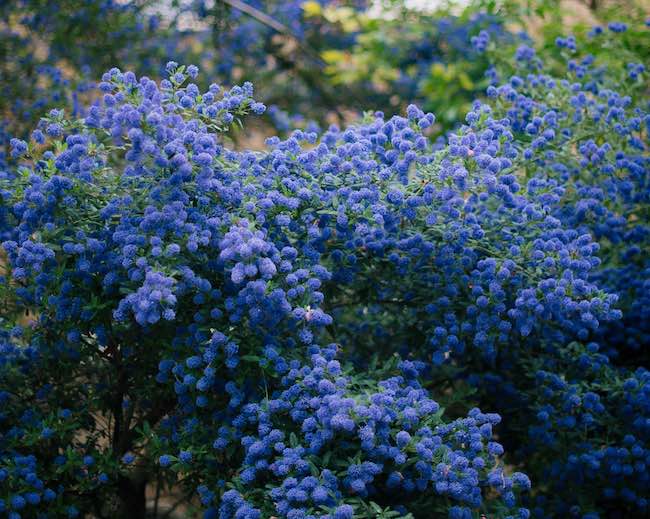 As spring starts to get underway, you might find damaged leaves on your ceanothus which by late spring will have turned brown and start to fall. With Ceanothus it's unlikely that new leaves will grow back and if they do the plant will be sparse and thin. So the best solution is to cut the plant back and allow the dormant buds in the lower stems to shoot
Ceanothus, also known as California lilac, is a popular ornamental shrub that is native to western North America. It is known for its attractive blue or purple flowers and glossy leaves. Ceanothus is generally hardy and can withstand cold temperatures, but it may be damaged by winter weather if it is not properly cared for. Here are some steps you can take to protect your ceanothus from winter damage:
Choose a suitable location: Ceanothus prefers full sun and well-draining soil. Avoid planting it in low-lying areas where it may be more susceptible to frost damage.

Mulch the plants: Mulching the base of the plant with a layer of leaves, straw, or wood chips can help to insulate the roots and protect them from extreme cold.

Water the plants deeply: Be sure to water your ceanothus deeply before the ground freezes to help the plants withstand dry, cold weather.

Prune the plants: Pruning ceanothus in the fall or winter can help to promote healthy growth in the spring. Remove any dead or damaged branches and thin out the plant to improve air circulation.

Protect the plants from heavy snow: If your area gets heavy snowfall, use stakes or burlap to support the branches and prevent them from breaking under the weight.
By following these tips, you can help your ceanothus survive the winter and come back strong in the spring.