Pruning Broom Plants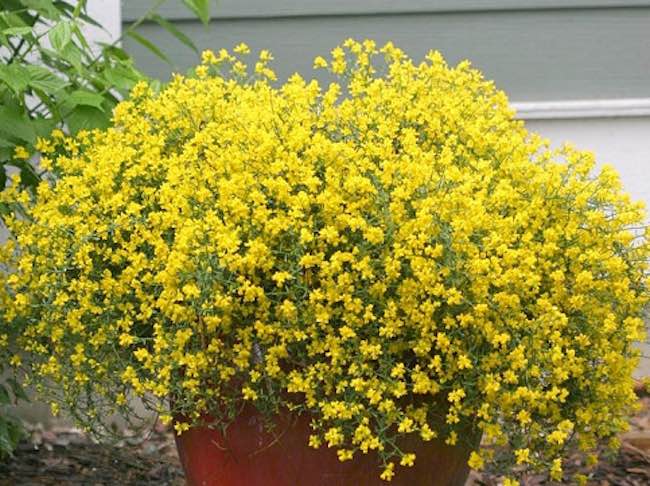 Broom plants (Cytisus spp.) are deciduous or evergreen shrubs with bright yellow, pink, or white flowers that bloom in spring or summer. . If left untrimmed for many years, they will become bare and ugly at the base and produce fewer flowers. Here are some tips on how to effectively care for and prune a broom plant:
Watering: Broom plants prefer well-drained soil and do not tolerate wet feet. Water the plant deeply once a week during the growing season, and reduce watering in the winter.
Fertilizing: Broom plants do not require heavy fertilization. Fertilize the plant with a balanced fertilizer once a year in the spring.
Pruning: Broom plants require regular pruning to keep them healthy and looking their best. Prune the plant after it finishes blooming in the late spring or early summer. Use sharp, clean pruning shears to remove dead, diseased, or damaged branches. Cut back any branches that are too long or leggy to maintain the plant's shape and encourage branching.
Renewal pruning: Every few years, broom plants benefit from renewal pruning. This involves cutting back the entire plant to within a few inches of the ground. This encourages the growth of new, vigorous shoots and helps keep the plant from becoming too woody and sparse.
Pests and diseases: Broom plants are generally healthy and pest-free. However, they can be susceptible to spider mites, aphids, and fungal diseases. If you notice any signs of infestation or disease, treat the plant promptly with an appropriate insecticide or fungicide.
Overall, broom plants are relatively low-maintenance shrubs that provide beautiful spring or summer blooms. With proper care and pruning, they can thrive in a variety of garden settings.