Yellowing Leaves In Pieris 'Forest Flame'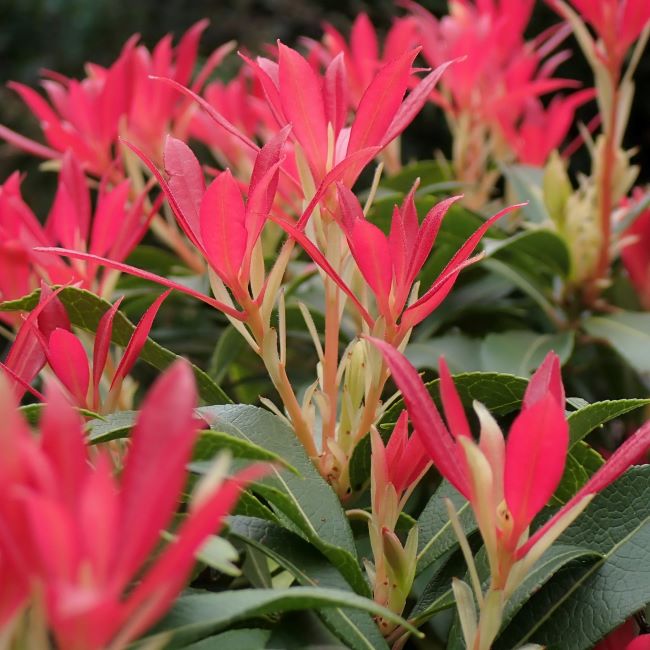 There are various reasons for yellowing leaves in the Pieris 'forest flame'. It likes acid soil so you need to feed it with a lime-hating plant food. High levels of alkali in the soil can diminish the amount of chlorophyll in the plant, resulting in pale, yellowish leaves.
It should also be planted in moist well-drained soil, and as it is not entirely hardy, make sure that it is protected from cold winter winds. Pieris is also subject to lace bugs which feed on the leaf sap, causing a bronzing and mottling of the leaf. They are not easy to eradicate but can be controlled by spraying the leaves in May with a strong jet of water from a hose, which will remove and kill the eggs. Horticultural oils and insecticide soaps can also be effective provided the leaves are well coated.
Sadly, the Pieris family is also susceptible to a relatively new and particularly virulent fungal disease known as Phytophthora ramorum. One symptom is bronze patches on the leaves and at the tip. Phytophthora ramorum is a named ecological hazard and although much research is being done, there is not yet an utterly effective control or treatment. If you suspect your plant is infected, it would be best to report it to an appropriate authority.
The foliage is often bronze or red when young and turns dark green as it matures. The flowers are white or pink, bell-shaped and often fragrant. They are popular ornamental plants in gardens and landscapes, grown for their beauty and ease of care. However, they can be toxic to some animals, so it's important to keep this in mind when planting them in areas where pets or wildlife may be present.