Choisya Ternata Winter Damage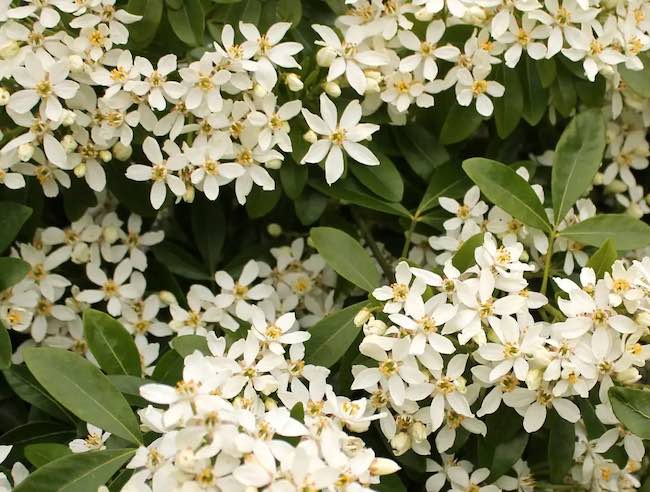 Choisya Ternata, commonly known as Mexican Orange Blossom, is a hardy evergreen shrub that can withstand mild winter conditions. However, severe winters can damage the plant in several ways:
Frost damage: Prolonged exposure to frost can cause the leaves and stems of the Choisya Ternata to turn black and die. This damage may also affect the flowers and buds of the plant, resulting in reduced flowering in the following season.
Waterlogging: Winter rain and snow can saturate the soil around the plant, causing the roots to become waterlogged. This can lead to root rot, which can cause the plant to wilt and eventually die.
Wind damage: Strong winds can damage the leaves and branches of the Choisya Ternata, causing them to break or become dehydrated. This can lead to reduced growth and flowering in the following season.
To reduce damage to the Choisya Ternata during winter, you can take the following steps:
Cover the plant: If you expect a prolonged spell of frost or snow, cover the plant with horticultural fleece or burlap to protect it from the cold.
Provide drainage: Make sure that the soil around the plant has adequate drainage to prevent waterlogging. If necessary, add sand or grit to the soil to improve drainage.
Provide shelter: Plant the Choisya Ternata in a sheltered location, such as near a wall or fence, to protect it from strong winds.
Prune in the fall: Prune the plant in the fall to remove any dead or damaged branches and to shape the plant. This will reduce the risk of wind damage during the winter.
Mulch the soil: Mulch the soil around the plant with organic matter, such as compost or bark, to protect the roots from frost and to retain moisture in the soil.
If your Choisya ternata has already been damaged by frost or snow, remove any damaged branches and stems and wait to see if the plant recovers. If it doesn't show signs of new growth within a few weeks, it may be necessary to replace it.