Renovating a lawn containing builders rubble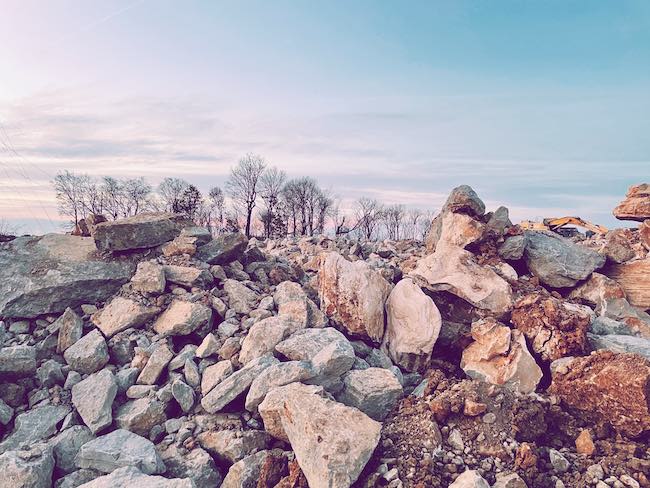 How do I solve the problem of my lawn being full of builders rubble
If you buy a new house with a lawn full of builders' rubble then your best bet is to start again as in the long run, this will save a lot of time and money.
To start it's often best to kill the existing lawn a few weeks before with Roundup weed killer applying it with a watering can on a dry day about 10 days before you start. The reason for this is that it will make the cultivation of the existing lawn a lot easier.
Next after about 10 days after the application of the weed killer, you can start to dig over the existing lawn removing all the rubble ideally over 50 to 75 mm. If the soil is very hard often it is a good idea to use a spade and mattock spade that's similar to a pick axe with flattened ends.
At this stage, if your soil is a wet heavy clay it's a good idea as you dig it overwork in one 25 kg of grit sand per 3 metre square area. This will help break up the soil ( if the builder's merchant is not sure about the type of sand just tell them it's the type of sand used for rendering)
With the area of the lawn worked over now it's time to create a general level with a rake and walking over the area as you start to work the soil down.
At this stage, you can decide if you need to import topsoil. If the soil still contains a lot of rubble or is hard to level and still lumpy it's often better to import some screened soil and lay the additional topsoil over the area to a depth of 50mm to 75mm.
If you decide to use some imported soil this is best delivered with the turf as it should be reasonably dry and easy to work. If left in a pile for a week or so it might become unworkable if it rains.
If you decide to seed the area it's best to spread and level the imported topsoil and leave it for a few weeks before you sow the grass seed to allow any weed seeds to germinate first so they can be removed before you sow the grass seed.
For gardening advice and more information on building rubble problem in your garden click here