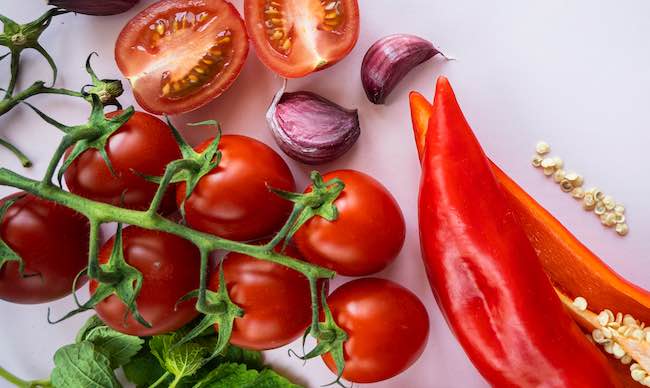 A GardenAdvice Quick Guide for MyGardenTeam members
This is a quick guide produced by the GardenAdvice team detailing the essential information you need to consider when starting to grow your own fruit and vegetables
Location of your vegetable garden
Your vegetable garden has to be in full sun and have access to water ideal with a small automatic irrigation system or water from a water butt or similar
Watering
Creating an automatic watering system will create crops that are a third larger.
The best type of watering is carried out with a drip irrigation system or a HydroSure Soaker Hose – 13mm. This will apply the water directly to the soil under the drip or hose without soaking the soil surface which would create more weeding.
Your system can either be connected to an outside tap or you can create a gravity feed system with some water butts placed on some concrete blocks. It's a good idea to have some water butts to collect rainwater, this water will be warmer than your tap water shocking the plants less and in hard water areas to softer.
With regards to a watering can the best ones have the finest roses which create droplets that will not cause damage to seedlings
Composting – Creating a compost heap is a good place to start. This will allow you to recycle all your vegetable waste back in the soil and also improve the soil texture for better growth with your fruit and vegetables.
Rather than spend money on a compost heap we normally use old builders' pallets to build a compost heap. Here is a link to some more information on composting. The three keys with compost is 1 feed it with Growmore fertiliser 3 or 4 times a year 2. Water it when you water the garden 3. In the winter cover with some old carpet or similar to keep the heat in as the bacterial work on breaking down the compost
Soil – Your GardenAdvice MyGardenTeam expert will advise you on your soil but as a general recommendation it's a good idea to add well-rotted organic matter to your soil such as garden compost, Chicken pellet manure or spent mushroom compost and in some cases lime to increase the soil pH if you have acidic soil or wish to grow such crops as cabbage
Rather than dig over your vegetable plot every year which turns up a lot of weed seeds it's better to have a no dig situation and add a layer of your compost in the autumn which the worms will incorporate into the soil over the winter.
Your GardenAdvice MyGardenTeam advisor can advise you on specialist crops such as asparagus which might need salt to create the correct growing conditions.
Feeding – the key with feeding is not to overfeed especially with vegetables, remember you and your family are going to eat them and you do not need to be eating too many nitrates in your fruit and vegetables.
Start the year with a handful of Growmore fertiliser sprinkled per square metre. The rain will wash it into the soil
Once your crops are growing, feeding with a weak solution of liquid tomato feed will encourage growth, flowering and fruiting.
With fruit and vegetables stay away from high nitrate feeds such as miracle gro, nothing wrong with miracle-gro we use loads of it but not in the vegetable garden.
Worms and digging – worms are key, make sure your soil has some lobworms ( the ones with the ring around the body near to the head. They will help with drainage, soil structure and incorporating organic matter into the soil and should prevent the need for digging.
As a GardenAdvice MyGardenTeam member we will post you or deliver some worms for you if needed.
Worms are also useful in your compost heap but they are a different type a red worm, these will only live in compost and not your soil
Plant and seed compost – placing to one side the information on eco compost etc coco coir compost is the best compost for sowing seeds especially if you are new to gardening.
If you are growing fruit and vegetables in post or containers a soil-based compost is best. The John Iness composts are the ones we recommend. John Iness is a name related to the person that formulated the compost so it can have different brands and manufacturers.
It comes as John Inness seedling compost, no.1, 2 or 3 the higher the number the more nutrients included in the compost.
John Innes no. 3 will burn the roots of seedlings because it has too many nutrients and salts in the compost.
Vegetable seeds – young vegetable plants and fruit trees and bushes.
Remember this season 2022 GardenAdvice is providing our MyGardenTeam members with free seeds and young vegetable plants grown in our own nursery.
Follow the GardenAdvice fruit and vegetable for updates
Our supplier of vegetable seeds is Moles seeds you can order directly from them
Sowing and planting your plants fall into 7 main areas or types
Note on early seed sowing, inspired by B and Q and Homebase need to improve cash flow early in the year; they tend to promote seeds and young vegetable plants very early on. Many are killed by frost or check by cold nights and stop growing.
Traditionally the sowing date for the the main crops is the 1st May so no rush
Early season sowing – start by warming the soil by placing black plastic over the surface for a few weeks in February to collect the sun's rays which start to warm the soil.
Then using garden cloches or bell jars you can sow early season crops such as peas and onion and garlic sets.
Main seed sowing – this is going to be in May sowing seeds in blocks
Young plants – lots of vegetable plants such as tomatoes, cucumbers and aubergine are best grown from young plants purchased from a garden centre.
Hardy plants. – plants such as blueberries, cane fruits, rhubarb and asparagus.
Repeat seed sowing – many crops are best sown in the summer every 3 to 5 to produce a steady stream of cropping. For example lettuce, rocket, basil, radish, and others
Winter greens. In late summer it's possible to sow winter lettuce and other crops such as Perpetual Spinach to keep you supplied with greens through the winter months
Vegetables in your flower beds.
Keys to seed sowing – the key to seed sowing is firstly the make sure the seed is well pressed into the soil or compost so it can take water from the soil or compost so firm your seeds well into the compost or soil after sowing and water well to remove any air pockets around the seed. Once you have sown the seeds, cover the drill with horticultural grit to mark the drill to make weeds easier to spot. With seeds in a seed tray after sowing just water well.
Pest and disease control
Slugs – beer traps and nematodes.
Companion planting – calendula seed and pyrethrum Seeds
Softsoap – Spray made from soap organic and is useful for keeping aphids under control
Barrier nets – effective against pigeons and other pests such as carrot root flies
Aphids – encouraging birds such as blue tits into the area of your vegetable garden is a great way to control aphids in your vegetable garden.
Pigeons and rabbits – the best solution we have found is to use the Pest XT Jet Spray Pest Repeller